Lea Express for Friday, September 6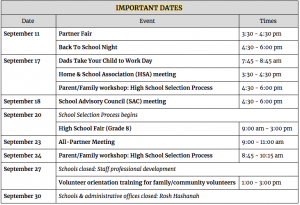 SCHOOL EVENTS & ACTIVITIES
Welcome to our New Staff!
We will like to introduce and welcome a few new staff members to Lea. Welcome to the FamiLEA!
Mrs.  Gricco: Kindergarten Teacher (202)
Mrs. Christian: Music Teacher
Lea Website & Calendar
We ask all Lea families to regularly check our school website for information about school programming, including the following resources:
Lea Community Calendar (https://tinyurl.com/lea-community-calendar): This public Google Calendar is designed to serve as a tool for sharing scheduling information among all Lea stakeholders. It can be accessed via the school's website (https://lea.philasd.org/).
Partner Programming: The "Partners" section of the school website (https://lea.philasd.org/partners/) contains information and resources about partner programming at Lea for all school stakeholders (students, families, staff, and partners).
Arrival and Dismissal Procedures
Arrival
School begins promptly at 8:30 am.  On School District of Philadelphia delayed openings days for inclement weather, school starts at 10:30 AM (subject to change).
Breakfast will be served from 8:00-8:20 am.  Students may enter the cafeteria from the doorway in the Schoolyard closest to 47th and Locust Sts.  After breakfast, students will assemble in the Schoolyard to greet their teachers and line up.
Any student not eating breakfast should report to the Schoolyard at 8:20 am to greet their teacher and line up.  There is no supervision in the Schoolyard until 8:20 am. The School assumes no liability or responsibility for children on school grounds until supervision begins.
In case of inclement weather, students in grades K-3 should go directly to the auditorium and sit in the assigned areas. Students in grades 4-5 should go directly to Cafeteria B and grades 6-8 should go directly to Cafeteria A.
Any student who arrives after 8:40 am is considered late. If a student is late, he/she must report to the Late Desk located in Cafeteria A for a late slip. Late arrivals are recorded on a student's attendance record. Lateness is disruptive to the instructional day. Punctuality is expected.
If your child has an early morning appointment, please go to the appointment first before reporting to school.  You must have a doctor's or other acceptable note for the lateness to be excused. Please make every effort to schedule appointments before or after-school hours.
In accordance with the School District of Philadelphia lateness policy, students who arrive two hours late (as defined as 10:30 AM or later) without an excuse note or leave school two hours early (as defined as 1:09 PM or earlier) without an excuse note will be marked as an unexcused half day absence.  All half day absences will be accrued to equal full day unexcused absences.
Dismissal
Students are dismissed from school at 3:09 p.m. Please arrive promptly at 3:09 PM to pick up your child.  On Early Dismissal days, students are dismissed at 12:09 PM. It is imperative that parents/guardians/caregivers pickup children on time during regular and early dismissal days.  The faculty, staff and administration have other obligations once the school day ends.
Students are dismissed as follows:

6-8 Grade: Will be dismissed from the stairwell and doors on the corner of 47th and Locust Sts.  They should then proceed to the appropriate place to pick up their siblings or go to the Big Schoolyard to line up for their after-school program.
3-5 Grade: Will be dismissed to the Big Schoolyard through the middle stairwell and door closest to 47th and Spruce Sts.  They should meet older siblings in the Big Schoolyard, proceed to the little yard to pick up younger siblings, or line up for their after-school program.
K-2 Grade: Will be dismissed to the Little Schoolyard by the Auditorium through the doors closest to the Auditorium or the stairwell closest to 48th and Locust Sts.  They should line up with their teachers and wait to be picked up by a sibling, adult or their after-school program. Teachers will remain until students are retrieved.
Students in Grades K-5 that aren't picked up on time will be brought by their teachers to the main office for late pick up.
On inclement weather days, grades 4 to 8 are released through their respective doors. K-3 students are dismissed from the Auditorium.
Back to School Night: 9/11
Next Wednesday, 9/11, from 4:00 to 6:00pm, we will be hosting our annual Back to School Night! This is a great opportunity for families to meet their children's teacher(s) and learn about the upcoming year, as well as to enjoy food from our cookout! Starting at 4:00 pm, families are invited to arrive in the Big Schoolyard on 47th Street to check out our Partner Fair showcasing our many community partners and resources. We look forward to seeing you!
Dads Take Your Child to School Day: 9/17
On Tuesday, 9/17, from 7:45-8:45 am, we would like to invite all of our families, friends, and–and specifically Lea fathers–to our Dads Take Your Child To School Day event! We encourage all Lea fathers to take their children to school and stay for refreshments, a short discussion, and a short interactive activity in the Auditorium. The doors to the auditorium will open at 7:45 am, and the event will end by 8:45 am. All father figures are welcome including: fathers, stepfathers, brothers, uncles, grandfathers, godfathers, foster-fathers, role models, and superheroes.
What about moms, you ask? Although the event is centered on fathers, mothers and other family members are more than welcome to attend and participate. For more information, or if you plan on participating, volunteering as a greeter, or simply want to support this initiative, please contact Mr. Brown (215-400-7660, antbrown001@gmail.com).
High School Selection Process: 9/17, 9/20, & 9/23
On Friday, 9/20, our 8th graders will be attending the school district's High School Fair during the school day. Field trip slips will be coming home soon, and must be returned to each 8th grader's homeroom teacher ASAP.
Also, on two separate dates–Tuesday 9/17 at 4:30 pm and Monday 9/23 at 8:45 am–in the Lea Auditorium, our school counselor, Mr. Hollenbach (jhollenbach@philasd.org) and Family & Community Engagement Liaison, Mr. Brown (antbrown001@gmail.com), will host a workshop for Grade 8 families with information about the high school selection process. Dinner will be provided.
AFTER-SCHOOL PROGRAM INFORMATION
Afterschool Program Enrollment
This school year, Lea will have the following after-school program options for our families:
Grades (K-4): Lea University-Assisted Community School (UACS)
The UACS after-school program for students in Grades K-4 will start programming on Monday, 9/16. Enrollment for the UACS after-school program will be held on the following dates, times, and locations:
9/9 – 9/12: 10:00 am-1:00 pm and 2:00-5:00 pm in the Partnerships Office (Room L4)
Families can contact the UACS Director, Arttia Watts, at 215-435-0314 or lea-nettercenter@sas.upenn.edu for more information or alternative enrollment scheduling options.
Grades (5-8): Philadelphia Arts in Education Partnership (PAEP)
The PAEP after-school program for students in Grades 5-8 will start programming on Monday, 10/2. Enrollment packets for the PAEP after-school program will be made available starting the week of 9/9 in the Main Office.
Extracurricular Clubs
After-school extracurricular clubs led by Lea teachers will start programming on Monday, 10/2. Enrollment packets for extracurricular clubs will be made available starting the week of 9/9 in the Main Office.
FAMI-LEA INFORMATION
School Advisory Council (SAC)
The Lea SAC met for the first time this school year on Wednesday, 8/28, and our next SAC meeting is Wednesday 9/18 from 4:30-6:00 pm in the Lea Library. The SAC advocates for Lea to the District and community partners; helps identify solutions to issues affecting academic achievement, school climate, and family engagement; and provides input on discretionary spending and school-based policies. All Lea parents, guardians, and family members are welcome to attend SAC meetings, and make sure to stop by the SAC table at Back To School Night to learn more!
2019-2020 SAC meeting dates: 2019: 9/18, 10/16, 11/13, 12/11 | 2020: 1/8, 2/12, 3/11, 4/1, 5/6, 6/3
Home & School Association (HSA)
On Tuesday, 9/17 from 3:30-4:30 pm in Room 106, the Home and School Association (HSA) will host their first monthly meeting of the school year. The HSA fosters open communication between the school and families in order to create an engaged and positive environment for students at school, at home, and in the community. Monthly HSA meetings will be held on the 3rd Tuesday of every month. Make sure to stop by the HSA table at Back To School Night to learn more!
2019-2020 HSA meeting dates: 2019: 9/17, 10/15, 11/19, 12/17 | 2020: 1/21, 2/18, 3/17, 4/21, 5/19
Academic Parent Teacher Teams (APTT)
This school year, Lea will be continuing the Academic Parent Teacher Team (APTT) model for family and community engagement in Grades K-2! APTT (https://aptt.wested.org/) is a classroom-based, teacher-led, data-driven family engagement model focused on supporting children's academic goals by linking home and school learning. Classroom teachers in grades K-2 will invite families to participate in three 75-minute group meetings and one 30-minute individual, family-child session during the school year.
The first of these APTT meetings for Grades K-2 will occur on Wednesday, 10/23 beginning at 4:00 pm. Childcare and snacks will be provided. More information is forthcoming, and we hope to see all of our Grades K-2 families on October 23rd!
Volunteering at Lea
If you are a parent, guardian, or family member of a Lea student and you wish to volunteer at the school (including chaperoning field trips), you are required to attend a mandatory Volunteer Orientation Training with our Family & Community Engagement Liaison, Mr. Brown (antbrown001@gmail.com) and Community Partnerships Coordinator, Mr. Rich (rjliuzzi@gse.upenn.edu). There is a Fall training on Friday, 9/27/19 from 1:00-3:00 pm at the school (location TBD), and a Spring training on Friday, 1/4/20. We hope to see you then!
Parenting Plus Café
On Friday, 10/4, we will be starting our Parenting Plus Café program, which is a free parent/guardian learning program and support group that includes parent learning (managing stress & anger, communication skills, discipline techniques, abuse/neglect, ages & stages of development, conflict resolution, parenting styles) and life skills training (nutrition, fire safety, and more). The Parenting Plus Café is 12 weeks long (Oct 2019 – Dec 2019), and meets every Friday morning in the Lea Library from 8:30 – 10:30 am. Please see the attached flyer for more details, and contact our Family and Community Engagement (FACE) Liaison, Mr. Brown (mailto:antbrown001@gmail.com), and/or the program facilitator, Ms. Denise (antbrown001@gmail.com) with any questions.