Lea Express for Friday, October 11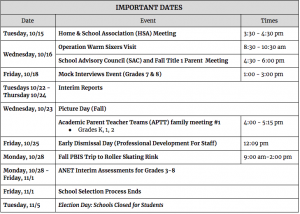 SCHOOL EVENTS & ACTIVITIES
Operation Warm Sixers Visit
Operation Warm is a nonprofit that provides brand new winter coats to children.  Next Wednesday, October 16th, they will be visiting Lea to give a brand new winter coat to every student with the help of the Philadelphia 76ers. Please see the attached photo release and sign the release if you don't mind your student being photographed during the event and return it to your child's teacher by Monday, October 14th.  Signing the release is optional. Your student will still receive a coat even if you don't sign the release.  If you need a translated version of the document, please contact the main office at (215) 400-7660.
Title 1 & Parent Information
Attached to this week's Lea Express you'll find the following information:
A letter from the School District regarding professional qualifications;
If your child is being taught by a teacher that is not appropriately certified, a specific letter for your information; and
An invitation to next week's SAC/Fall Title 1 Information meeting.Also included is information regarding your student's privacy rights under federal law.  Please review the documents and let us know if you have any questions.
Mock Interviews for 7th & 8th Grades
Next Friday, October 18th, we'll have Mock Interviews for our 7th and 8th grade students to practice interviewing skills and prepare our 8th graders, in particular, for High School interviews.  Please ask your 7th and 8th grade students to come to school dressed professionally and prepared to participate!
Pretzel Sales!
Pretzel sales have resumed!  Pretzels will be sold each Wednesday and cost $1.  Please be sure to send money in with your students if you'd like them to have a pretzel treat.
Interim Reports
Interim Reports for Quarter 1 will be sent home between Tuesday, October 22nd and Thursday, October 24th.  Please be sure to check your student's book bag on those dates.
Picture Day
Picture Day forms for Kindergarten through 7th grades were sent home this week.  Forms for our 8th grade students will be sent home next week. Please check with your students and complete the forms.  Picture Day is on Wednesday, October 23rd.
AFTER-SCHOOL PROGRAM INFORMATION
Afterschool Program Enrollment: The following programs are still enrolling!
Grades (5-8): Lea University-Assisted Community School (UACS) Sports Program
The UACS after-school program is also offering a sports-focused program for students in Grades 5-8. UACS started programming on Monday, 9/16. Families can contact the UACS Director, Arttia Watts, at 215-435-0314, lea-nettercenter@sas.upenn.edu, or visit her in Room L-4 for enrollment information.NOTE: Grades 5-8 students must choose between the UACS Sports and PAEP STEAM programs–they CANNOT enroll in both programs.
Grades (5-8): Philadelphia Arts in Education Partnership (PAEP) STEAM Program
The PAEP after-school program is a STEAM-focused program (science, technology, engineering, arts, and math) for students in Grades 5-8. PAEP will start programming on Wednesday, 10/2. Enrollment packets for the PAEP after-school program are available in the Main Office. Contact Ms. Evans (taevans@philasd.org), Mr. Brown (antbrown001@gmail.com), or Mr. Rich (rjliuzzi@gse.upenn.edu) with any questions.NOTE: Grades 5-8 students must choose between the PAEP STEAM and UACS Sports programs–they CANNOT enroll in both programs.
Extracurricular Clubs ("EC Clubs")
After-school extracurricular clubs sponsored and led by Lea teachers will start programming in October. Enrollment packets for extracurricular clubs are available in the Main Office or from the teacher sponsors of each club.NOTE: Students CAN enroll in an EC Club and one of the after-school program (PAEP STEAM or UACS Sports) as long as they maintain consistent attendance with both their after-school program (PAEP STEAM or UACS Sports) and their EC Club.
FAMI-LEA INFORMATION
School Advisory Council (SAC)
The Lea SAC will meet on Wednesday, October 16, at 4:30pm in the school library to discuss a number of issues and have our Fall Title 1 Meeting. All Lea parents, guardians, and family members are welcome to attend SAC meetings!
2019-2020 SAC meeting dates: 2019: 10/16, 11/13, 12/11 | 2020: 1/8, 2/12, 3/11, 4/1, 5/6, 6/3
Home & School Association (HSA)
Our next meeting is Tuesday, October 15th, at 3:30 pm in Room 106 (monthly HSA meetings are held on the 3rd Tuesday of every month). Please join us!
2019-2020 HSA meeting dates: 2019: 10/15, 11/19, 12/17 | 2020: 1/21, 2/18, 3/17, 4/21, 5/19
Academic Parent Teacher Teams (APTT)
This school year, Lea will be continuing the Academic Parent Teacher Team (APTT) model for family and community engagement in Grades K-2! APTT (https://aptt.wested.org/) is a classroom-based, teacher-led, data-driven family engagement model focused on supporting children's academic goals by linking home and school learning. Classroom teachers in grades K-2 will invite families to participate in three 75-minute group meetings and one 30-minute individual, family-child session during the school year.
The first of these APTT meetings for Grades K-2 will occur on Wednesday, 10/23 beginning at 4:00 pm. Childcare and snacks will be provided. More information is forthcoming, and we hope to see all of our Grades K-2 families on October 23rd!
Volunteering at Lea
If you are a parent, guardian, or family member of a Lea student and you wish to volunteer at the school (including chaperoning field trips), you are required to attend a mandatory Volunteer Orientation Training with our Family & Community Engagement Liaison, Mr. Brown (antbrown001@gmail.com) and Community Partnerships Coordinator, Mr. Rich (rjliuzzi@gse.upenn.edu). The remaining training dates are as follows:
Friday, 11/22/19, from 1:00-3:00 pm
Friday, 1/24/20, from 1:00-3:00 pm
Parenting Plus Café
Last week, we held the first session of our Parenting Plus Café program, which is a free parent/guardian learning program and support group that includes parent learning and life skills training. The Parenting Plus Café is 12 weeks long (Oct 2019 – Dec 2019), and meets every Friday morning in the Lea Library from 8:30 – 10:30 am. Contact our Family and Community Engagement (FACE) Liaison, Mr. Brown (antbrown001@gmail.com), and/or the program facilitator, Ms. Denise (dalessan@devereux.org) with any questions.