Lea Express for Friday, October 18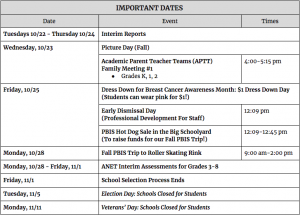 SCHOOL EVENTS & ACTIVITIES
Academic Parent Teacher Teams (APTT)
This school year, Lea will be continuing the Academic Parent Teacher Team (APTT) model for family and community engagement in Grades K-2! APTT (https://aptt.wested.org/) is a classroom-based, teacher-led, data-driven family engagement model focused on supporting children's academic goals by linking home and school learning. Classroom teachers in grades K-2 will invite families to participate in three 75-minute group meetings and one 30-minute individual, family-child session during the school year.
The first of these APTT meetings for Grades K-2 will occur on Wednesday, 10/23 beginning at 4:00 pm. Childcare and snacks will be provided. More information is forthcoming, and we hope to see all of our Grades K-2 families on October 23rd!
Title 1 & Parent Information
We have placed the following documents on the Lea Website your review:
The Lea Parent & Family Engagement Policy for the 2019-2020 School Year
The Lea Parent-Student Compact for the 2019-2020 School Year
The presentation for our Annual Title 1 Meeting is also being placed on the Lea Website.  Please review the documents and let us know if you have any questions.
Pretzel Sales!
Pretzels will be sold each Wednesday and cost $1.  Please be sure to send money in with your students on Tuesday if you'd like them to have a pretzel treat.
Interim Reports
Interim Reports for Quarter 1 will be sent home between Tuesday, October 22nd and Thursday, October 24th.  Please be sure to check your student's book bag on those dates.
Picture Day
This is a reminder that our Picture Day is on Wednesday, October 23rd.  Please make sure you send your picture money with your student or pay online!
AFTER-SCHOOL PROGRAM INFORMATION: These programs are still enrolling!
Grades (5-8): Lea University-Assisted Community School (UACS) Sports Program


The UACS after-school program is also offering a sports-focused program for students in Grades 5-8. UACS started programming on Monday, 9/16. Families can contact the UACS Director, Arttia Watts, at 215-435-0314, lea-nettercenter@sas.upenn.edu, or visit her in Room L-4 for enrollment information.NOTE: Grades 5-8 students must choose between the UACS Sports and PAEP STEAM programs–they

CANNOT

enroll in both programs.
Grades (5-8): Philadelphia Arts in Education Partnership (PAEP) STEAM Program
The PAEP after-school program is a STEAM-focused program (science, technology, engineering, arts, and math) for students in Grades 5-8. PAEP will start programming on Wednesday, 10/2. Enrollment packets for the PAEP after-school program are available in the Main Office. Contact Ms. Evans (taevans@philasd.org), Mr. Brown (antbrown001@gmail.com), or Mr. Rich (rjliuzzi@gse.upenn.edu) with any questions.NOTE: Grades 5-8 students must choose between the PAEP STEAM and UACS Sports programs–they

CANNOT

enroll in both programs.
FAMI-LEA INFORMATION
School Advisory Council (SAC)
The Lea SAC met on Wednesday, October 16, at 4:30 pm in the school library.  A summary of the meeting will be available in next week's Lea Express.  Please make sure you join us for our next meeting in November!
2019-2020 SAC meeting dates: 2019: 11/13, 12/11 | 2020: 1/8, 2/12, 3/11, 4/1, 5/6, 6/3
Home & School Association (HSA)
The Lea HSA met on Tuesday, October 15th, at 3:30 pm.  Meeting notes will be posted in next week's Lea Express.
2019-2020 HSA meeting dates: 2019: 11/19, 12/17 | 2020: 1/21, 2/18, 3/17, 4/21, 5/19
Parenting Plus Café
Please join us for our Parenting Plus Café program each Friday! The Parenting Plus Cafe is a free parent/guardian learning program and support group that includes parent learning and life skills training. The Parenting Plus Café is 12 weeks long (Oct 2019 – Dec 2019), and meets every Friday morning in the Lea Library from 8:30 – 10:30 am. Contact our Family and Community Engagement (FACE) Liaison, Mr. Brown (antbrown001@gmail.com), and/or the program facilitator, Ms. Denise (dalessan@devereux.org) with any questions.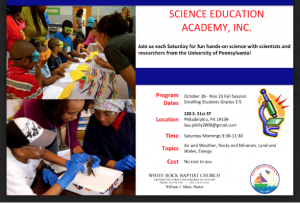 SHOUT OUTS!
Operation Warm Sixers Visit
Thank you for an awesome visit from Operation Warm and the Philadelphia Sixers! They visited Lea on Wednesday, 10/16 and provided a warm coat for every student in the building.  We had a great day here at Lea with the support of our partners. We appreciate all of the support from our students.
We are receiving coats for students next week and will begin distributing them at that time.  If you have a pressing need, please contact the main office so that we can provide you with a coat immediately.
Mock Interviews for 7th & 8th Grades
Today, we had Mock Interviews for our 7th and 8th grade students to practice interviewing skills and prepare our 8th graders, in particular, for High School interviews.  Thank you to all of our wonderful volunteers for your participation!