Lea Express for Friday, November 1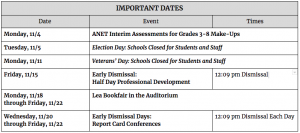 SCHOOL EVENTS & ACTIVITIES
Picture Day
The make-up date for Picture Day will be November 25. Please make sure you send your picture money with your student or pay online!
Pretzel Sales!
Pretzels will be sold each Wednesday and cost $1.  Please be sure to send money in with your students on Tuesday if you'd like them to have a pretzel treat.
Operation Warm Sixers Visit 
We haven't received the coats for our students yet.  We distribute them as soon as they arrive. If you have a pressing need, please contact the main office so that we can provide you with a coat immediately.
AFTER-SCHOOL PROGRAM INFORMATION
Grades 5-8 After-School Program enrollment
The PAEP After-School Program is still enrolling students! The Philadelphia Arts in Education Partnership (PAEP) STEAM Program is a STEAM-focused program (science, technology, engineering, arts, and math) for students in Grades 5-8. Enrollment packets for the PAEP after-school program are available  in the Main Office. Contact Ms. Evans (taevans@philasd.org), Mr. Brown (antbrown001@gmail.com), or Mr. Rich (rjliuzzi@gse.upenn.edu) with any questions.
NOTE: Grades 5-8 students must choose between the PAEP STEAM and UACS Sports programs–they CANNOT enroll in both programs.
UACS After-School Program Closed: 11/15 & 11/22
The UACS After-School Program will be closed on Friday, 11/15 and Friday, 11/22  for staff professional development. On these dates, all UACS students must be picked up at the half-day early dismissal time of 12:09 pm.

FAMI-LEA INFORMATION
School Advisory Council (SAC)
The Lea SAC will meet next Wednesday, November 13th, at 4:30pm in the school library.  2019-2020 SAC meeting dates: 2019: 11/13, 12/11 | 2020: 1/8, 2/12, 3/11, 4/1, 5/6, 6/3
Home & School Association (HSA)
The Lea HSA will meet next on Tuesday, November 19th, at 4:00 pm in Room 106.  Meeting notes from last month's HSA meeting are below.
Supporting Students

Lea t-shirt design: We'll pick the best three to put up for a vote schoolwide.
Washer/dryer: The washer sprung a leak and flooded a basement room when it was being tested, so it is out of commission until Facilities fixes things. There is no timeline for the fix.
HSA Scholastic dollars for Lea Store:

Spent some dollars that were going to expire.
We bought $800 of things for the Lea Store (because it was going to expire) and they all arrived this week!
Let's give the Lea Store $200 per month in Scholastic Dollars. We can give extra in December or January for the holiday shopping spree.
Rebel Ventures will also be supplying things for the Lea Store.

Lost and Found:

There is now a poster and some flyers to be posted around the school. Things aren't sticking to the walls – we may need to get a stand and/or laminate them. We are due for cleaning out the lost and found at the end of the month.

Supporting Families

Clothing Swap: We have a huge inventory of school uniforms and a parent organized them. Consensus was that we are going to skip the clothing swap at future Back-to-School nights. We're going to keep them on hand for kids who need them. This is still going to be donation-based, so if families no longer need uniforms, they can still bring them in. Ms. Foxworth is willing to continue to organize the uniforms.
Lea Swag:

We are getting smallest size Lea shirts soon. They will be $10 each.
We'll sell all this stuff at the Book Fair in November.
We also ordered fanny packs! We'll get patches made separately and try putting the patches on the packs. Megan is happy to help attach the patches.

CPR initiative: Nurse Harrison has a connection at CHOP, and they'll come over to do it for us. We just have to pick a date and a time. Mr. Weaver will follow up with scheduling this.
Kindergarten Open House: We think it will be a small group, maybe 10 families, 9-9:45. We need to make sure that we have enough staff to escort people around. If we get 3-4 parents to help, that would work. We need someone at the front door, the lobby, and at the auditorium.

Supporting Staff

Scholastic Dollars – expirations and staff needs: We spent all the dollars that will expire soon. We still have $6,000 in Scholastic Dollars from previous book fairs. We will spend some money on the new teachers who need stuff (3 with definite needs, possibly one other). We need to save $1,000 for gift certificates for the Book Fair and $1,000 for the Lea Store. Let's give $300 for each of the new teachers. Mrs. Steckel will follow up with the teachers.

Supporting the Community

Crossing Guards: Let's check in with the councilperson's office and 18th District regularly about this.
Make sure we promote the position in the community when they post the position in 2020 since they prioritize placements near crossing guards' homes.
If we could get vetted volunteers placed at key corners, that could work. We need to check with the Police Department first –send it as a letter for documentation.
Book Fair:

We need volunteers to staff the book fair and to provide baked goods – Mrs. Steckel will send the sign up sheet with these notes.
People will help put posters up around the community.
2019-2020 HSA meeting dates: 2019: 11/19, 12/17 | 2020: 1/21, 2/18, 3/17, 4/21, 5/19
Parenting Plus Café
Please join us for our Parenting Plus Café program each Friday! The Parenting Plus Cafe meets every Friday morning in the Lea Library from 8:30 – 10:30 am. Contact our Family and Community Engagement (FACE) Liaison, Mr. Brown (antbrown001@gmail.com), and/or the program facilitator, Ms. Denise (dalessan@devereux.org) with any questions.