Lea Express for Friday, December 13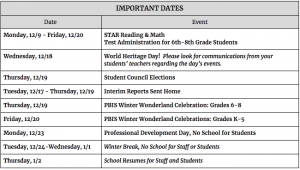 SCHOOL EVENTS & ACTIVITIES
Pretzel Sales!
Pretzels will be sold each Wednesday and cost $1. Please be sure to send money in with your students.
Student Council Applications & Elections
Lea Student Council elections are now next Thursday! We had to move the elections back due to the number of students interested in running for office.  We will let you know the results of the election in next week's Lea Express.
Winter Concerts
Thank you so much for supporting our Winter Concerts!  The students performed wonderfully! Special shout out to Mrs. Christian, Mr. Nuissl, Ms. Gottschalk, and Mrs. McGlone for putting together a wonderful concert!
FamiLEA Fun Night
Our 4th annual FamiLEA Fun Night was a hit!  Thank you for coming out and enjoying the events, parent engagement workshops, and dinner with our school community.  Special shout out to Mr. Rich, Mr. Brown, and Ms. Arttia for putting this together for us, and to all of our wonderful volunteers!
Operation Warm Coats 
We have our coats!  Please let your child's teacher know what size your child needs.  They will come home with a new coat on Monday or Tuesday of next week. If you have any questions or concerns, please contact Mr. Rich (rjliuzzi@gse.upenn.edu).
AFTER-SCHOOL PROGRAM INFORMATION
Grades 5-8 After-School Program Enrollment
The PAEP After-School Program is still enrolling students! The Philadelphia Arts in Education Partnership (PAEP) Program is a STEAM-focused program (science, technology, engineering, arts, and math) for students in Grades 5-8. Contact Ms. Evans (taevans@philasd.org) or Mr. Brown (antbrown001@gmail.com) with any questions.
NOTE: Grades 5-8 students must choose between the PAEP STEAM and UACS Sports programs–they CANNOT enroll in both programs.
FAMI-LEA INFORMATION
School Advisory Council (SAC)
The Lea SAC met on Wednesday, December 11th from 4:30 – 6:00 pm in the Lea Library.  We'll send out a summary in next week's Lea Express.
2019-2020 SAC meeting dates: 2019: 12/11 | 2020: 1/8, 2/12, 3/11, 4/1, 5/6, 6/3
Home & School Association (HSA)
The next HSA meeting will be next Tuesday, December 17th from 4:00-5:00 pm in Room 106.
2019-2020 HSA meeting dates: 2019: 12/17 | 2020:  1/21, 2/18, 3/17, 4/21, 5/19
Volunteering at Lea
If you are a parent, guardian, or family member of a Lea student and you wish to volunteer at the school (including chaperoning field trips), you are required to attend a mandatory Volunteer Orientation Training with our Family & Community Engagement Liaison, Mr. Brown (antbrown001@gmail.com) and Community Partnerships Coordinator, Mr. Rich (rjliuzzi@gse.upenn.edu). The next training will be on Friday, 1/24/20. We hope to see you then!
Parenting Plus Café
Please join us for our Parenting Plus Café program each Friday! The Parenting Plus Cafe meets every Friday morning in the Lea Library from 8:30 – 10:30 am, ending on Friday, 12/20. Contact our Family and Community Engagement (FACE) Liaison, Mr. Brown (antbrown001@gmail.com), and/or the program facilitator, Ms. Denise (dalessan@devereux.org) with any questions.