Lea Express for Friday, November 15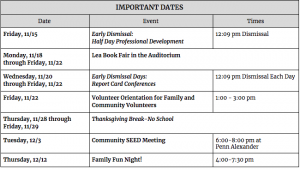 SCHOOL EVENTS & ACTIVITIES
Picture Day
The make-up date for Picture Day will be Monday, November 25th. Please make sure you send your picture money with your student or pay online!
Pretzel Sales!
Pretzels will be sold each Wednesday and cost $1.  Please be sure to send money in with your students.
Operation Warm Sixers Visit 
We still haven't received the coats for our students yet.  We distribute them as soon as they arrive. If you have a pressing need, please contact the main office so that we can provide you with a coat immediately.
AFTER-SCHOOL PROGRAM INFORMATION
Grades 5-8 After-School Program Enrollment
The PAEP After-School Program is still enrolling students! The Philadelphia Arts in Education Partnership (PAEP) Program is a STEAM-focused program (science, technology, engineering, arts, and math) for students in Grades 5-8. Contact Ms. Evans (taevans@philasd.org), Mr. Brown (antbrown001@gmail.com), or Mr. Rich (rjliuzzi@gse.upenn.edu) with any questions.
NOTE: Grades 5-8 students must choose between the PAEP STEAM and UACS Sports programs–they CANNOT enroll in both programs.
UACS After-School Program Closed: 11/15 & 11/22
The UACS After-School Program will be closed on Friday, 11/15 and Friday, 11/22  for staff professional development. On these dates, all UACS students must be picked up at the half-day early dismissal time of 12:09 pm.
FAMI-LEA INFORMATION
School Advisory Council (SAC)
The Lea SAC met on Wednesday, November 13th.   A summary will be available in next week's Lea Express.
2019-2020 SAC meeting dates: 2019: 12/11 | 2020: 1/8, 2/12, 3/11, 4/1, 5/6, 6/3
Home & School Association (HSA)
The Lea HSA will meet next Tuesday, November 19th, at 4:00 pm in Room 106.
2019-2020 HSA meeting dates: 2019: 11/19, 12/17 | 2020:  1/21, 2/18, 3/17, 4/21, 5/19
Volunteering at Lea
If you are a parent, guardian, or family member of a Lea student and you wish to volunteer at the school (including chaperoning field trips), you are required to attend a mandatory Volunteer Orientation Training with our Family & Community Engagement Liaison, Mr. Brown (antbrown001@gmail.com) and Community Partnerships Coordinator, Mr. Rich (rjliuzzi@gse.upenn.edu). The next training is on Friday, 11/22/19 from 1:00-3:00 pm at the school (location TBD), and there will be another training on Friday, 1/24/20. We hope to see you then!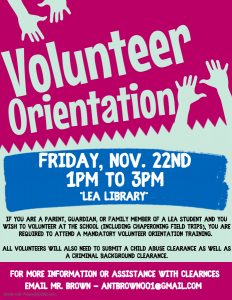 Parenting Plus Café
Please join us for our Parenting Plus Café program each Friday! The Parenting Plus Cafe meets every Friday morning in the Lea Library from 8:30 – 10:30 am. Contact our Family and Community Engagement (FACE) Liaison, Mr. Brown (antbrown001@gmail.com), and/or the program facilitator, Ms. Denise (dalessan@devereux.org) with any questions.